TAPAT KAMI: PRESYONG SWAK SA LEGAL FARE PRICE, WALANG PASOBRA KAHIT KONTI
OUR COMMITMENT TO PRICE TRANSPARENCY
We believe in price transparency at Move It. Our commitment to fair pricing ensures that you can trust our service. With clear and transparent pricing, you can make informed decisions about your rides. Discover how Move It is revolutionizing the 2-wheel ride-hailing industry with our commitment to price transparency.
CALCULATING THE APPROVED FARE MATRIX
Move It utilizes an "Approved Fare Matrix" established by the Motorcycle Technical Working Group. Our fare calculations are based on the distance traveled in kilometers, following the rates specified in the Fare Matrix. By adhering to the Fare Matrix, we want to ensure that every user is charged fairly and consistently.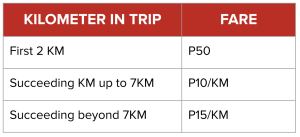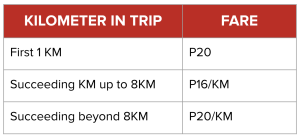 Use the calculator below to easily compute the appropriate fare depending on the distance traveled. Simply input the Kilometer for your trip as indicated in the Move It App activity history and/or official receipt of your ride.
To calculate the government approved fare, just input the following:
FREQUENCY ASKED QUESTIONS (FAQs)
How do I know if the fare calculator is accurate and follows the approved Fare Matrix?

The fares are prescribed by Department of Transportation's Motorcycle Taxi Technical Working Group (TWG) based on the Revised Guidelines For The Pilot Implementation of Motorcycle Taxis As Amended issued on January 27, 2020

How do I determine the distance between the pick-up and drop-off points?

You can easily find the distance between your pick-up and drop-off points by referring to the kilometer (KM) mentioned in the receipt of your completed ride. This distance serves as a reference point for calculating the fare accurately.

Are there additional charges or fees apart from the calculated fare?

Move It's fare calculator provides you with the estimated fare for your ride based on the distance traveled. However, please note that there may be additional charges or fees applicable in certain scenarios, such as toll fees. These additional charges will be clearly communicated to you before confirming your ride.

What should I do if I encounter any discrepancies in the fare calculation?

If you notice any discrepancies in the fare calculation or have concerns about the fare charged, please reach out to our customer support team immediately. We will investigate the issue promptly and work towards resolving it to ensure your satisfaction.